small flexible team

Babel Média Communication is a small team. We make no apologies for that, in fact, that's the way we like it. Small means: low overhead costs, humans answer the phone, we work quickly and efficiently, we don't downsize, no bureaucratic hassles, no sleazy sales reps, (two people put this together in two weeks).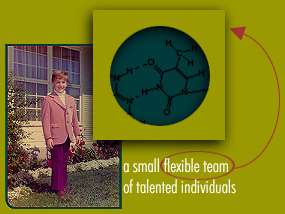 flexibility
Babel Média Communication has the flexibility to: adapt quickly to new technology, integrate seamlessly with your development team, understand the complexities specific to your market, and form strategic partnerships with complimentary talented teams.




experienced
Babel Media Communication was created in 1995 to adress the need for graphically rich well-presented interactive publicity material. Our impressive list of clients includes
Wal Mart Canada
Bureau en Gros
Molson Breweries
SystemHouse Limited (SHL)
Sika Canada and Sika USA
APECQ ( Association patronale des entreprises en construction du Québec )
ACQ (Quebec Construction Association)
and many others.



INTERNET
Some of our clients...
Internet sites
To visit web sites created by our team.



INTRANET - CD - VIDEO
Some of our clients...
CD, video and Intranet


15 ANS DE PUB FRANCOPHONE
CR-Rom available to the public ( in french only )
More them 70 clips and 75 posters.
Available on line, more info.

Corporate CD, video and Intranet
Not available to the public .

CQRHT

Corporate CD

Bureau en Gros
( Staples )

Training CD

WalMart

Training Video

ACQ (Association de la Construction du Québec)

Intranet, Internet and CD

Sika Canada
(Construction and Industry)

Internet and CD

Sika USA
(Construction and Industry)

Internet and CD


Brasseries Molson

Training CD

SHL (System House Limited)

Training CD

Mémoire d'écrans - 100 ans de Cinéma au Québec

Encyclopedia type CD
for more info please contact us at info@babelmedia.net
Tel. (514).376.5965

Administration and customer service
JC Media
5231 9th Avenue
Montreal, Québec, Canada
H1Y 2J5